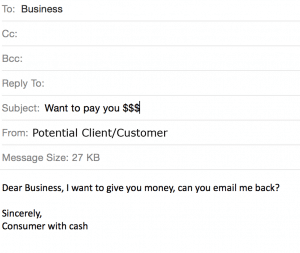 You go through the trouble of building a website. For your health, right? NO. Because you want to increase business. So when someone emails you or fills out a form, you should answer as soon as possible. Seems elementary, right?
Yes, I agree. But my experiences indicate that people still don't get this simple concept.
Here are a couple of examples:
I had some trash, a couple of old TVs, an old desk and assorted junk. I emailed a couple of companies. No responses. So I went to a national company I knew would be more expensive. I went to their site, scheduled a pickup, they came and got paid. The other 2 morons? They got nothing, spit, zero, ugatz.
My daughter's car had a few dings.  I had just completed a site for a great company, Dent Bandit based in Florida that does paintless dent repair.  They are too far away so I emailed a couple of local companies.  No response.  UNREAL. I will keep trying, but giving someone money shouldn't be this hard right?
I get a lot of my business at RooSites as companies get frustrated when companies managing their websites are unresponsive and slow.  As we turn around 99% of requests the same day people are thrilled.  Somehow companies manage to ignore potentials customers. The same people bitch how hard business is and that they can't make money.
I wish I could say the 2 examples above were anomalies. But I find that most companies never respond or respond weeks later.  Not acceptable.
So I repeat the title of this article: Answer emails or take down your website!! You are wasting money having a site when it generates potential business you ignore.