If you have a website, you are receiving what I call SEO Spam each and every day.  They promise free audit reports and tell you they can make you number one for any and all keywords under the sun.
Fact: they cannot
First off, they never even ask you what you want to be found for, just a blanket promise that they can make you number one. OK, what if I want to be found for Apple computers? See how ridiculous their promises are?
The sheer volume of these emails has gotten out of hand. While I am sure that there are some legitimate companies out there, they wouldn't resort to sending spam.
Here is one day, over a 10-minute period, 7 SEO Spam Emails!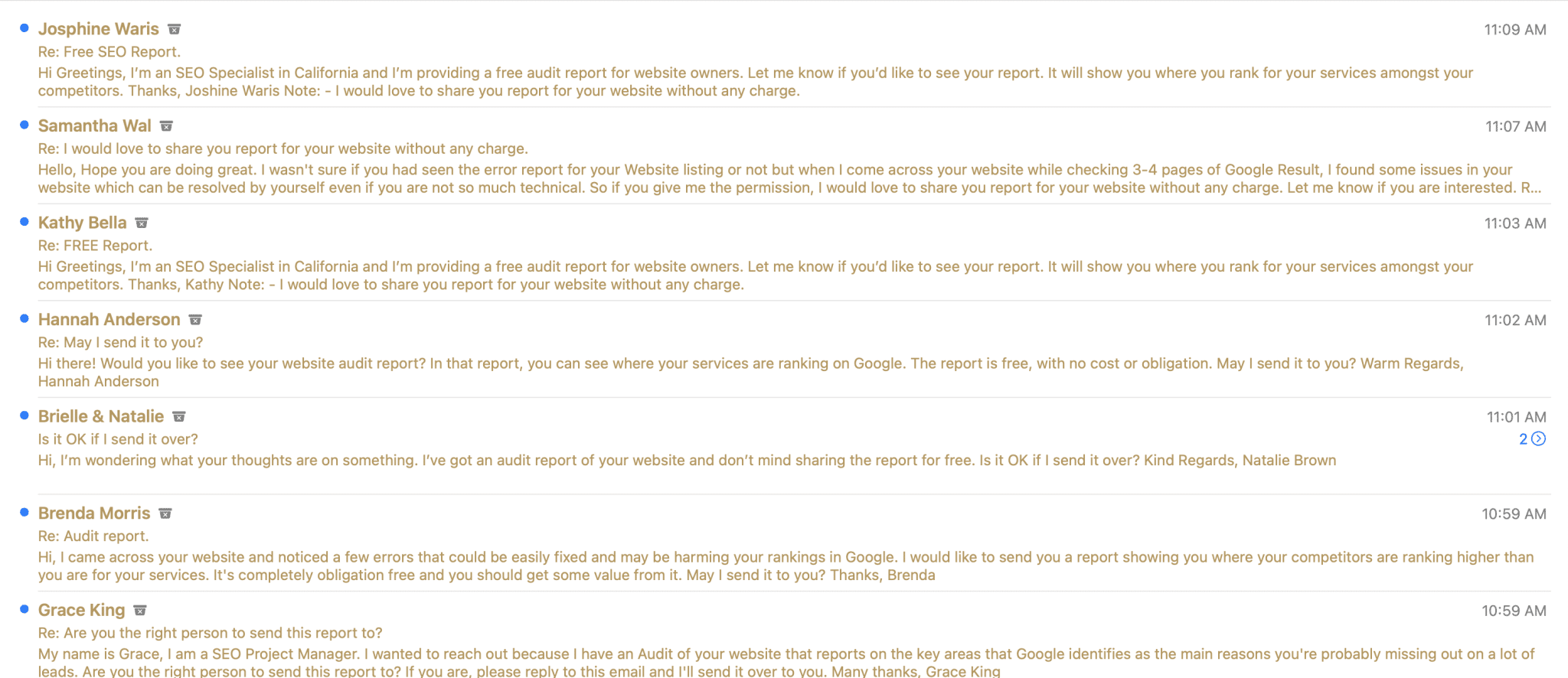 So what should you do?
When you respond to spammers, your email address is flagged as live.  Spammers have no shame, they sell these list to others.  So I never respond. Even their unsubscribe links are fake and used to determine what email addresses are live. The best thing you can do is mark them spam and delete. If you are receiving multiple emails with the same language, set up rules to discard their garbage.
So, what separates RooSites from the SEO spammers?
Simple, search engine optimization (SEO) is included with all our service plans. BUT, we never make false promises. And we NEVER send spam or unwanted emails of any kind. We will work with our clients to devise a plan to improve their search engine rankings. Depending on what they want to be found for, many times we do reach that vaunted number one spot in Google.  This, of course, is dependent on what they want to be found for. In my joke above, obviously I won't get somebody to be number one for Apple computers. But I might be able to get them a number for something reasonable. What we can promise is that if they follow the plan we set up for them, they will improve.  Improving your search rankings is work, and if you're willing to put in the time and effort, you can improve.
If it was as easy as the SEO spammers say, then ask yourself: Why aren't they number one for SEO? If you check out most of the companies that are sending you Spam, they aren't even on the first page for SEO or Search Engine Optimization! In fact, most aren't in the top hundred listings!
Will this get better in the future?
I doubt it, although Spam detection has gotten much better we still find our inboxes and spam filters full of garbage each and every day.  Some email providers are much better than others, which is why I always recommend a third-party email service rather than hosting your own website email on your server.
If you like Microsoft Products then go with Office 365
If you prefer Google products and Gmail, then G-Suite is the way to go.
Bottom line:
You have to always be on guard against spammers and scammers. Always assume any email coming in or pop-ups are from malicious sources looking to hack and or install Trojan processes on your computer.   But as I said, in terms of the SEO Spam,  mark as spam, delete and set up rules.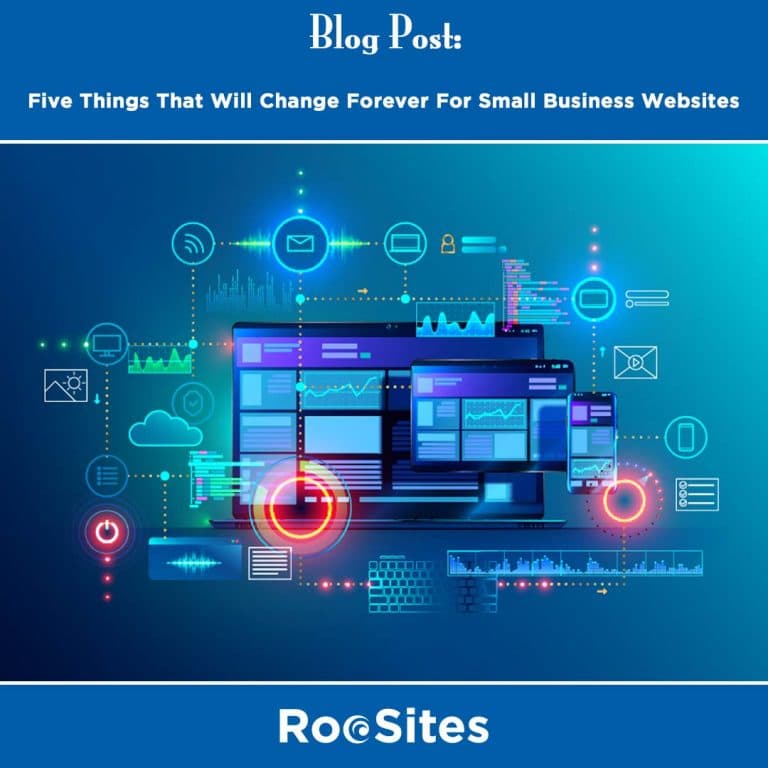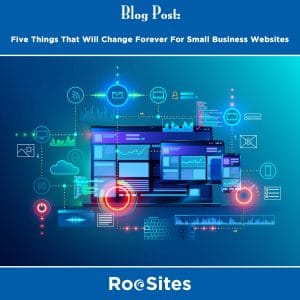 After the pandemic, a lot of things will go back to normal for small businesses. But, some things will remain changed forever. Here are five things that I think will change permanently for small business websites around the globe.
No Companies Without Websites After The Pandemic

There will no longer be companies without an online presence. Up until now most companies are on the web, but some still (somehow) have not developed websites. What Covid – 19 has taught us is that you have to be able to do business online. At very least you need a site to communicate to people when you are closed or have special hours and circumstances. Now, that doesn't mean everybody is selling 1 million products or have a full-fledged e-commerce site, but every small business needs a website. Chances are the companies who don't have a website will not be long for this world. They are dinosaurs and will become extinct.

No More Brick & Mortar Only Stores

Even traditional brick and mortar stores that don't sell online, will need the ability to do so. That may not be your entire product line, but it's a good idea if you have some standard products that can always be bought online. That way your business is never totally shut down no matter the tragic circumstances.

Small Business Websites Must Have Online Payments

If you are a professional service, such as a law firm or CPA, you now need the ability to be paid online. One of my clients is a law firm that has been around since the 1800s. They recently had us build an improved payment solution for their website. The new functionality has lead to quicker payments as well as a savings of of over $12,000 a year. People during the pandemic have been scared to even go to the post office in many cases. So, having the ability to get paid online is crucial. If your website is not set up to accept payments, then that would be a good place for you to start and be ready if this horrible circumstance ever comes around again.

All Small Business Websites Need The Ability To Easily Add Content And Messaging

Too many websites are still stagnant, static sites and when the pandemic hit they had no way to quickly update their websites. The days of building a site and never making changes are gone (as they should be!!). Every site should be built using a Content Management System or CMS that is user friendly.

All Sites Need To Be Responsively Designed

The percentage of people viewing sites on cellphones and pads has reached an all time high. During traumatic times, people have little patience for websites that don't display on their device of choice.  So if you are a late adopter with a site that doesn't look good everywhere, now is the time, make it happen!
Look, if I had told you that we would have a pandemic that would shut down the world, forcing millions out of work, you would've said I am crazy. But like a scary movie, our world became a nightmare with Covid-19.  Similar to 911, some things changed forever. After 911, everything from travel, to the way we purchase stocks and our normal behavior shifted forever. The same thing has happened with the pandemic. Now, as no one could've predicted this, very few were ready for the new world order. Some companies actually thrived during this horrible time. Some have survived and sadly many will go out of business forever.
But, looking on the positive side (if there is one) we now will be planning ahead for the next pandemic. Our small businesses will be far more ready, as we have to find a way to keep business says surviving even during the worst times when we cannot conduct business face-to-face. Most of us will never go back to our normal jobs, going into an office 9 to 5, as many will remain working from home.  But the work will still need to be done, just in a different fashion. We have to be ready.
My recommendation for small businesses is this: take a look at your small business website, figure out what you can do in the event of another global catastrophe. Determine what is the bare minimum you need to keep your business afloat and make it happen.  And of course, if you need any help at all, please contact us, we are happy to assist.