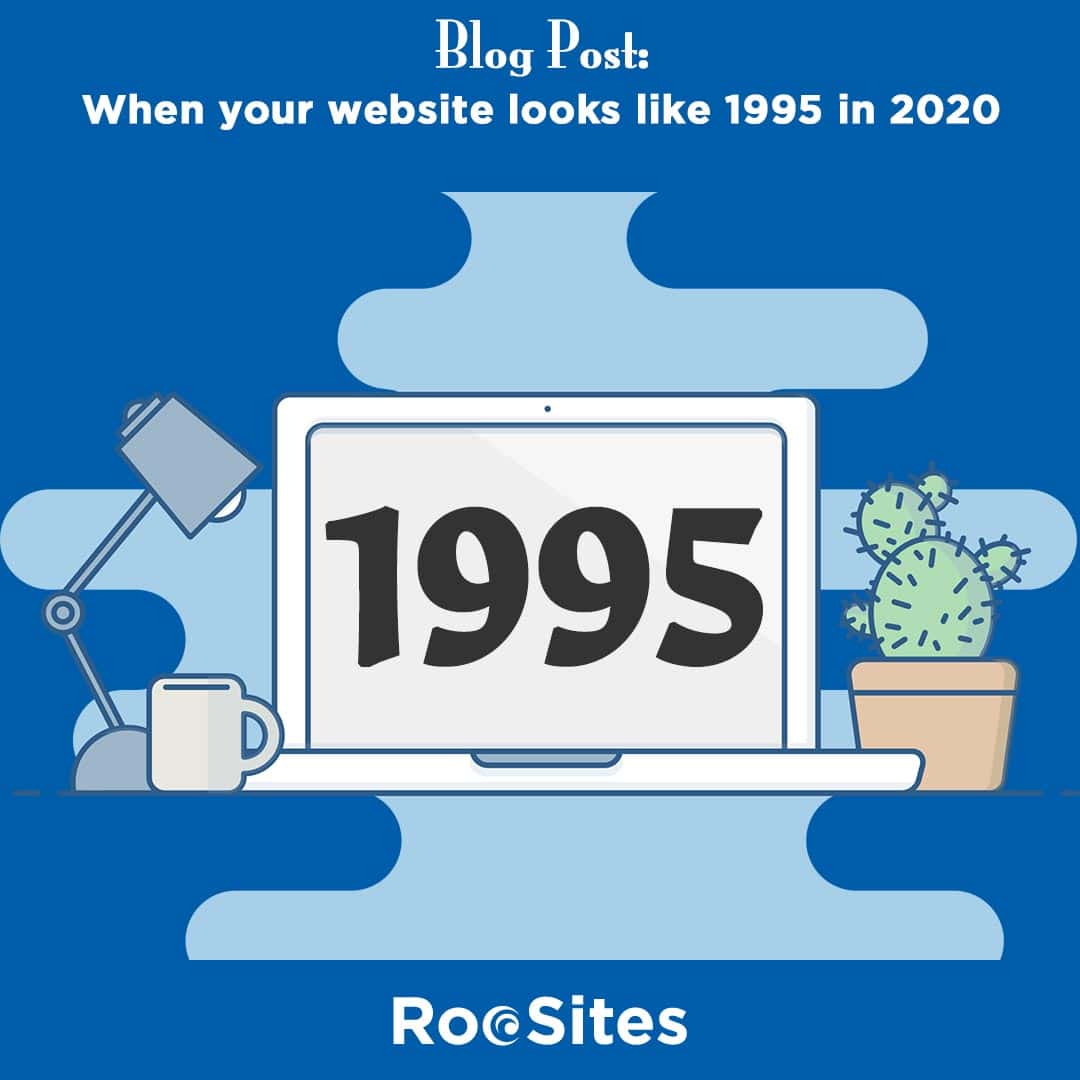 I recently had a friend connect with me on LinkedIn. I hadn't talked to this person in quite a few years and naturally (as I tend to do) took a peek at his companies' website. I won't say what his organization does, as that will give it away and I don't want to hurt anyone's feelings, but I will tell you I was shocked at what I found.
While I can't point to the URL, I will tell you what I discovered and how this may apply to you and your business. We will examine Design, Content & Security.
Design:
Their website looks like something we were building in the mid to late 90s, or as I like to say the early days of the web. The amazing thing is that this organization serves tens of thousands of members and is collecting huge fees (which isn't going to their technology 😉 ).
The website was not responsively designed, and therefore looks terrible on mobile devices and even pads. The website screamed, I don't care what anyone thinks, and I don't even care if anyone uses this site. It was a disgrace and so out of date from a technology standpoint, using outdated platform like cold fusion. (who knew that was still around…)
As with most sites built  in the 90s, it is very boxy with gradients and a logo which is using beveling, a drop shadow, a glow and other outdated design elements. The site is easy to navigate with a simple main menu, which most time would be a real benefit. Unfortunately as most of the content is out of date you just easily navigate to outdated and in many cases irrelevant information. The biggest design no no is the fact that a site doesn't function on mobile devices. This is a disgrace in 2020.
Content:
From a content standpoint, most information was 5+ years old, though they had a few new links to articles. I took a look at their photo gallery they had photos from 2007 – 2010 which shows you they aren't adding too many pictures. Their video gallery was just as bad with the latest videos being from 2013. Their call to action it's a video to entice you to join which dates back to 2011!! So from a content, and SEO standpoint, the site fails miserably.
Security:
Although this site has people sign up on it, the site is not secure and pages are not encrypted. This of course is a real no-no in 2020. But this site seems to not only have an outdated design, they seem to be using security measures from the 90s, basically none at all!
Bottom line:
This site is terrible, and has a look and feel from the 90s. I don't think anyone viewing the site would argue my point. The saddest part is it wouldn't take very much to get this website in shape. You could do a redesign and throw the content into a content management system with a stylish, responsive theme. I would review and remove outdated content and advise they get onto a schedule of adding more current, relevant information to their website.
So How does this relate to you and what can you do:
If you look at your website and it looks terribly out of date and at very least it isn't mobile friendly, it is time for you to make a change, quickly! Well over 50% of the people visiting your website will be on mobile devices, so if your site is a mobile friendly you will lose them, and lose them fast. The same goes with your content. If you have content that is old and stale, you have a problem. If someone comes to your site and see this, chances are they think that either of you are out of business or you're just not very good at what you do.  Outdated content shows a severe lack of pride. Remember: Your website is your window to the world and outdated site says to people, you don't care if they look inside.
If you want a free evaluation, contact us today, we are happy to advise you.
We get a lot of referrals from customers who are happy with our services and tell their friends & colleagues that we are the best website management company.
This is because our clients enjoy working with us and like to spread the word. I appreciate this more than they will ever know as my business is referral driven. While we get business from other sources, there is no better lead than a referral from a happy customer. Recently the question came to me directly: So, why are you the best website management company?
As I always tell people you need to have your Elevator Speech ready to go. Now this doesn't have to be lengthy and should just be around 30 seconds, I break down mine into 5 main points.  So here's how I answer:
Responsiveness – we always answer your emails and calls the same day. Over 99% of requests are completed the same day people request them. This may seem high, but we have built our business on providing prompt, quality services.
Security – in managing and hosting websites, you have to be prepared for the inevitable. While we use the best hosting companies on the planet, still things can happen and hackers are always try to break in. By taking daily backups, it enables us to get your site back up and running very quickly should something happen. We also employ some of the best remediation companies to help clean and fix any security holes that arise.
Cost – as a small business, I understand how important it is to keep costs down. As such our support plans are based on 50% off of our normal hourly rates. This allows companies to have a support plan that allows them to do everything they need to keep their website up-to-date and growing. This includes web content, social media, SEO, Marketing, Advertising, Email Marketing, and More!!
Single Point of Contact – when we manage your website, you always go through me. While I may employ others for different projects, you will always be coming through a single point of contact. I don't disappear once you sign the contract with me.
24/7/365 – we are available all the time. Now of course, we may get sick and go on vacation on occasion. But, we still answer emails and respond. As an example I was on cruise for a week. In advance I sent an email to all my clients, telling them I would be on vacation and they should open a support ticket using my ticket system. Although I said I would answer everything when I got back, I still managed to complete every request the same day, even though I was in the middle of the ocean!
So that is it in a nutshell. This is our main selling point. The way the industry has grown, a lot of people wanted to design and build websites as they felt this was fun, sexy. But after the sites were built, these companies want to move onto the next project and not interested at all website management. I get more business from companies whose previous web developer has disappeared off the face of the earth. Now, they need help with their website and are stuck. Fortunately most of the time we can help.
The problem is that today's web technology, especially with CMS's* like WordPress require constant attention. Plug-ins are updated all the time, as is WordPress and theme files. If you ignore them eventually your site will break and/or get hacked. Now while it's sold as something you can manage yourself, unless you know how to get a site back after it breaks from a bad plug-in version, you need to have a professional and manage your site. This of course is where RooSites shines. We will make all the updates on your behalf and come up with a support plan to keep you up to date and secure. Our support plans are tailered to fit your companies needs. While some companies only need an hour or two each month some need as many as 10, 20 hours a month, and some even require unlimited support.
As an example, recently I took over for a nonprofit who had over 20 plug-in/theme/WordPress updates. Now to safely do this, I had to set up a staging site where I test all these updates properly as their site was so woefully out of date. Now it is up to date, and secure. Prior to that, they tried to manage everything themselves, but it became overwhelming as they are all working on their main jobs, which of course is the nonprofit agency they work for.
So please, if you need help managing your website or designing and building one, please contact us, we are happy to help you.  Being the best website management company is something we are extremely proud of and work hard every single day to live up to. We don't live off of our laurels, and try and improve each and every day. But don't take our word for it, check out our testimonials, and if you need to speak to some of our clients, we are happy to connect you.
*CMS = A content management system (CMS) manages the creation and modification of digital content. These systems typically support multiple users in a collaborative environment, allowing to perform document management with different styles of governance and workflows. Usually the content is a website (or part of it) and the term commonly refers to web content management systems. Web content may include text and embedded graphics, photos, video, audio, maps, and program code (such as for applications) that displays content or interacts with the user. By their nature, CMSs support the separation of content and presentation. Definition from: Wikipedia, Learn More
---
RooSites, founded in 1996 is an award winning small business website provider, featuring web design, development and management.  As a one stop shop, RooSites can handle all your website needs, from Content, Social Media, SEO, Marketing, Advertising, Email Marketing and More!!
RooSites Locations:
Boston & Foxboro Massachusetts, DunedinFL (covering the entire Tampa area), Charlotte North Carolina. We are proud to help companies all over the United States.
---