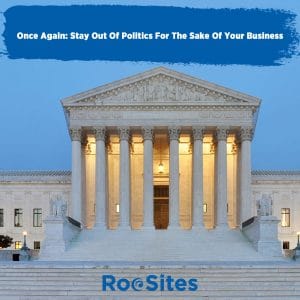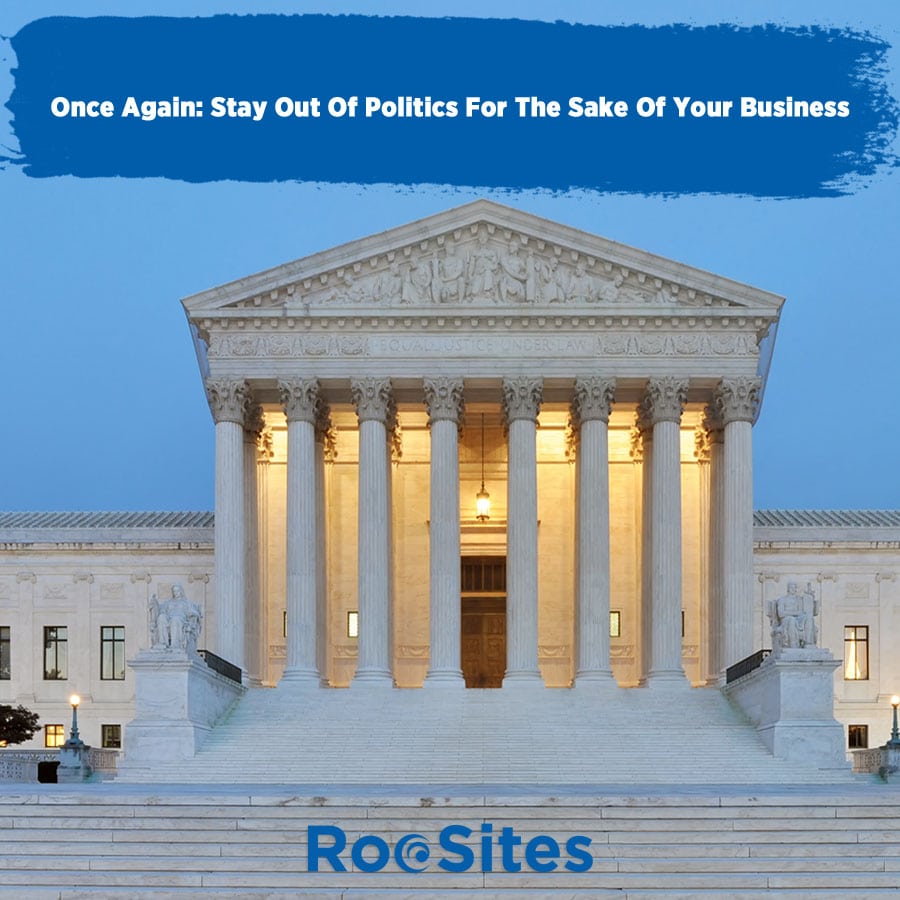 I wrote a blog post a while back entitled Politics – Stay Out Of It!.
It was right after the 2016 election cycle and people on both sides of the political spectrum were divided like never before. I advised Business people to stay out of the fray. Because, everyone has their own opinions, and some you will not agree with. But for the most part, if you are a business you will do business with anyone who wants to pay you or buy your products. (Within reason of course, not speaking of hate groups or the like)
So now, I am bringing up the same topic again. We just had the most contentious Supreme Court hearings ever. Once again both sides are so divided. So again I am giving the same advice. In terms of your business website and social media accounts, stay out of politics.(Unless of course you are a political adviser, or commentator makes a living off of politics)
Succeeding in many businesses today means having a broad appeal. You want to take in as much business as possible. Can you imagine if Amazon before they would allow you to purchase asked what your political views were? Of course they wouldn't, and this of course is a silly example. At the same time, the point is valid, get business from everyone you can, and maximize your profits. This of course is simple economics, but it is something that can be affected by something as simple as a post which many of your potential customers/clients find offensive. The last thing your business needs is to be boycotted.
Personally, I even advised clients to stay out of the fray on their personal social media accounts. The reason is simple, a lot of times you get referrals and recommendations from friends & contacts on social media. Now if you alienate people, you are probably eliminating half your referral sources, at least among your friends and contacts.
BOTTOM LINE
Social media has allowed people to spread their views far and wide. It Is one of the truly great things about being an American with free-speech. But that isn't what this post is about. I am taking a look strictly from a business standpoint. So yes, while you'll certainly have a right to let your feelings be known, as a small business it certainly isn't advisable and not a great marketing strategy.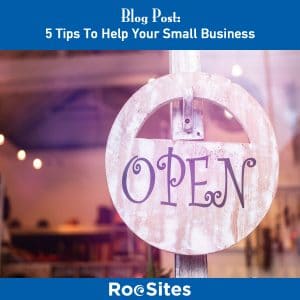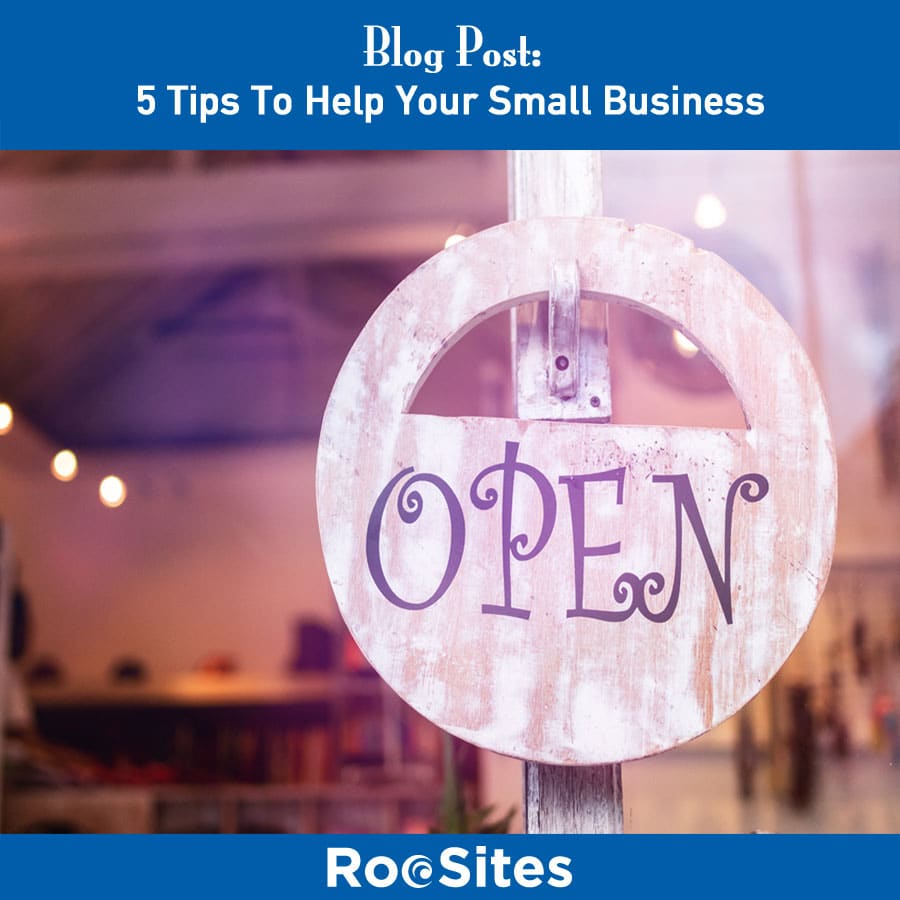 I was very proud recently writing up my newsletter announcing seven new clients. We are an overnight success that took over 20 years of hard work to happen 🙂 We continue to gain clients via referrals from happy customers. As any small business person will tell you referrals are the lifeblood of any company like mine.
Now this post is not meant to just brag about our success. No, actually this is a post designed to help you, the small business person.  I intend to share with you what I consider the secret of success for any small business, particularly service businesses. Now my business isn't your typical service business, usually you think more of the guy that comes to fix your refrigerator or the exterminator, or perhaps someone who comes to cut your grass. But, I do look at myself as a service company and most definitely a small business despite our tremendous growth.
Communication & Responsiveness

The simplest thing a service business can do to retain customers and reap the benefits of those people referring you over and over is to respond to inquiries immediately. As an example, we answer every email the same day. Most of the time we fulfill customer requests within 24 hours. No matter what you're doing, respond to your customers quickly. Otherwise, they will go elsewhere. And, If you have the contact form on your site, make sure you check and respond as soon as possible. When people fill out a form, they do so as they want immediate help. As not everyone prefers the phone these days, they fill out your form. If you ignore this or take too long to respond, again they will probably go elsewhere.

Take a long view

A lot of times companies make the mistake of overcharging a customer on their first interaction. The problem with that, is you leave a bad taste in someone's mouth and they're not as likely to for you or use you again. Instead, try to be fair, even giving first time customers/clients a discount. The result will be repeating business and referrals. Being shortsighted and overcharging maybe profitable in the short term, but in the long-term is not a great strategy.

Quality Offerings

One thing most people and companies are looking for is to deal with businesses who have a good solid offering. For us, we have tried to develop service plans to handle most of the web tasks a small business could ever need. So rather than their company having to hire a person to do SEO, another to do social media, another to write blog posts, another to host their site, and yet another to manage their website updates and security, they just hire us. So think about your business, what are you offering and what can you add to those offerings to make you more valuable to your customers?

Help Those Who Help Others

One thing that we have always done is give a substantial discount to nonprofit organizations. This is something we recommend to most small businesses. By giving a discount to nonprofits, veterans groups and others you show people that you are a part of the community. This leaves your customers with a good feeling about you and your business. And people always want to refer companies they like and respect.

Always Be Reviewing 

I am a firm believer that you can always be improving. [ see my post on Kaizen – Kaizen is Japanese for "improvement", or "change for the better" ] But to do so you need to constantly be reviewing what you are doing as a small business. Take a look at what can you do better, what works and of course what doesn't work. The world is constantly changing, and as such you need to be evolving all the time as a business. Keep your eyes on others in your industry, look for the next big thing. I'm not telling you to get away with from what made you successful, but perhaps adding something to your company can help you sustain yourself for the long haul.
Bottom Line
I have followed these tips and they have worked well for me growing my business over the last two decades. I'm sure there are other good pieces of advice, and I would love to hear some of your tips to help small-business. The small business community is a tight knit one and anytime you can reach out and help others, that's a good thing. Good karma can never hurt!