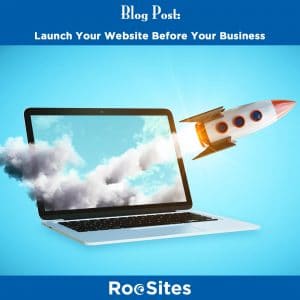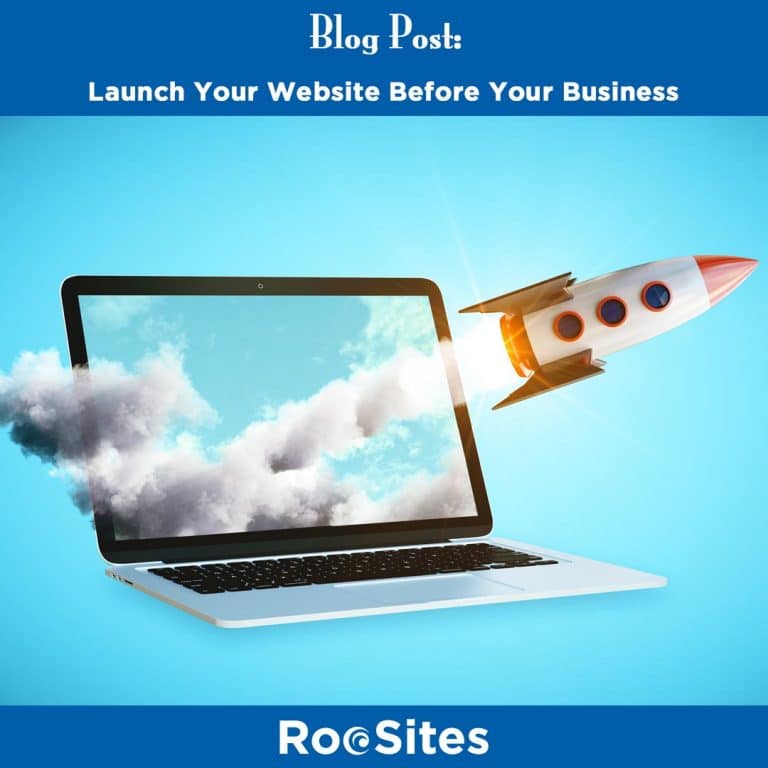 A question as old as the internet, when should you launch your website?
Many times people come to me AFTER their company has opened for business.  This unfortunately is not the best time to begin thinking about having a website.
You want to have a website up and running BEFORE you open the doors. The reason is simple, you want to give search engines the opportunity to find you.
So by having your website up and running in advance of commencing business, when you do open your doors, your site has already been indexed by google.
Now that doesn't mean you have to say you're open. In fact, it's a great idea to let people know the official date at which time you hope to start conducting business.
An additional benefit is that you will be able to take your time and get your site completed in the right way. When we tend to rush in business, that's when we made mistakes or put out an inferior product. This of course is the same with web development.
One of the main reasons is that no matter how hard you try and work on your website content, once you see it online, you always have changes.
When is the right time to start?
To me the right time to start is a soon as you know that you are going forward with your business plans and have an approximate date at which time you will be operational. At that point you want to start at the beginning, which to me is always a logo. This is because you want your site design to follow the same color scheme as your logo and branding efforts. Once that's done, it is time to pick you web design and web development team. This way your website will be built and ready to go once you open for business.
TIP: Make sure your developer is not only schooled in the art of design but also familiar with search engine optimization. Designers tend to be good at the artistic piece, but not the functional. In the long run the functional piece is even more important.

We at RooSites learned long ago that you need to understand every part of developing the site. This is why we developed service plans which cover all our clients needs.
Bottom line:
The sooner your site is out there and visible to and contained within Google index, the sooner you will be found and the sooner your website can begin paying dividends. So Launch Your Website Before Your Business. If you need help, please contact us.
When you go to any of of the world's great museums you will see abstract art which shows off the wild imaginations of their creators like Pablo Picasso. Somehow we have gotten to the point where some people believe their website should be this type of artistic creation.
Wrong!
Many times your website is the first impression people have of you and your business. In today's world people do not have the time to spend even minutes looking for what they need on your website. (My guess is that Picasso would have hidden his navigation within a strange shape in some sort of cubist image map.)
Tip: Never make it hard to find the information people are searching for on your website.
There are ways to have a website which has unique features, yet allows your visitors to find what they need.
here are four ways we can do this:
Number One: Unique Branding
A logo is a great place to start your branding efforts. This is the place where you can be truly unique and stand out from the crowd.  If I mention Apple, Nike and other famous brands, you picture their logos immediately. Your logo and matching color scheme should be consistent throughout your marketing efforts and social media channels. No one should go from your website to social media and see something that doesn't match your website's branding. One of the best things about logo design is that it is no longer the expensive process it was back a decade or so ago. For relatively short money you can have a unique, special logo that sets you apart in the marketplace. If you aren't sure where to have a logo designed, please don't hesitate to contact us and we can assist you.
Number Two: Your Content
Your content should be all about you and written in a style uniquely yours. People too often tend to copy their competitors and just change around a few words. This never works. Speak in your own voice, and differentiate your business from those you compete with for business.
In the article: Seven Suggestions To Develop a Superb Writing Style, the author presents some very good ideas on developing your writing skills. This will definitely help your content development going forward.
Number Three: Imagery
If you want to be unique, have photos that are uniquely yours. It is not very hard or expensive to have photos of your team done by professionals and also have photos of your business created. I don't have a problem with stock photos being sprinkled around a site, but when I use them I try to use a little more unique images, not the beautiful family with the giant smiles. Make your photos relatable.
Number Four: Your Blog.
One of the best places for you to show off what's great about your company is to fill it with interesting news and blog posts. Not only are blogs great for search engine optimization (SEO), they also give people a reason to keep coming back and checking out your website.
In closing:
So, as we have discussed, you don't have to have Picasso design your website. You want to be unique and that is 100% understandable. But you don't have to go crazy, and you especially don't have to create a website that's hard to navigate and for your visitors to find what they're looking for. As we said, first and foremost the most important thing your website can do is allow people to get what they need and to hopefully contact you via your call to actions.