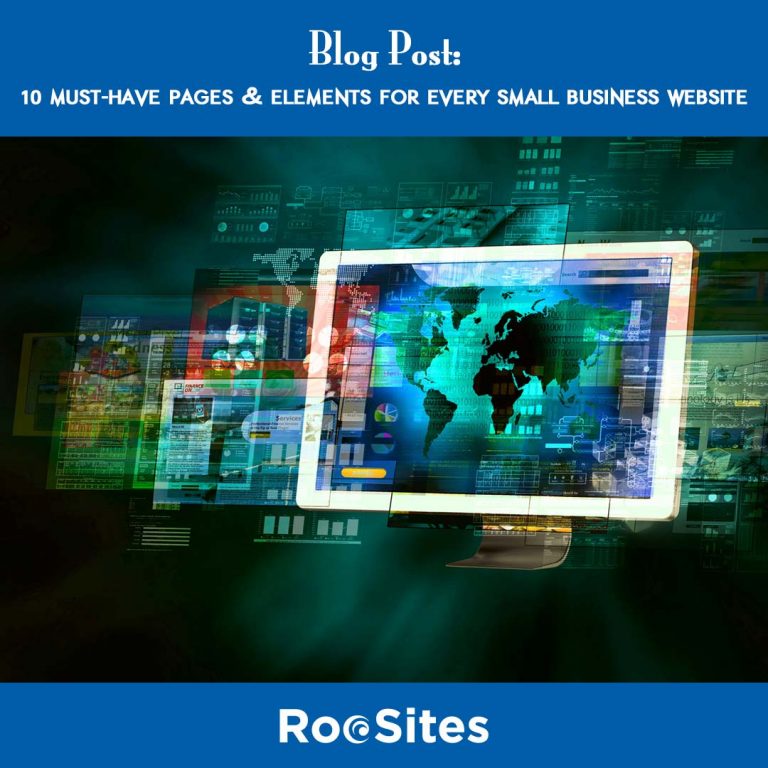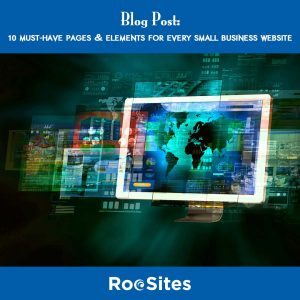 Updated, 5/12/23
When you build a small business website these are the things you absolutely must-have. All should have the following:
About Page – One of the most visited pages on most websites. This is where you tell people about your company, the history and what you do.
This is also called, Who We Are, Our Story and other names. Whatever you want to call your page, this is one of the most important of the must-have pages.

Sub Page – Team Page – Depending on whether or not you're an individual contributor or have employees, you may want to have a page for your team. This isn't necessary for smaller firms.

Services Page – Tell People What Services You Offer. When people surf the web they are looking for something. Make it easy, list out all your services.
This page is sometimes called What We Do, and as with About, it doesn't matter what you title the page, as long as you clearly list what it is you do.

One thing I like to do is include a line saying if you don't see a service listed, contact us. There may be things you don't do normally but that you would do, or at very least recommend someone else.

Contact Page – Let people know how to reach you. Make sure you include the following:

Phone
Email
Contact Form – Keep it simple, people are leery about giving too much information
Map/Directions

Blog/News Page – One of the most important areas from an SEO standpoint. If you want to grow your online presence, there is no better way than to be constantly adding quality content. And there is no better way than by blogging.
Testimonials Page – REAL Testimonials. Don't have fake or fake sounding testimonials. If possible include the person's full name, position and company. Then the testimonials carry weight.
Call To Action – Very important to have a call to action. What do you want visitors to your website to do? Contact You?  Make an Appointment? Buy Something?  Have a clear call to action. We blogged about this way back in 2011, in post entitled:

Clear Call To Action: Keep your eye on the prize

and that post is still accurate today.
SSL – If you have unencrypted pages, you are doing yourself and visitors a disservice and it is dangerous. Make sure you encrypt your pages with SSL.
Two Level Navigation Menu – If possible, all your pages should be no more than 2 levels deep. I recently saw a small website and the page I was looking for was 5 levels deep. Ridiculous and unnecessary.

Responsive Design – If your website isn't mobile friendly, STOP and get someone to build you a new site. Over 50% of the visitors to your site are getting having a poor user experience. Responsive design is where your website adjusts to the user's screen size and looks good everywhere. More on Responsive Design »

Unique Logo – Logos set your brand and the design of your site. Best of all it isn't all the expensive to have a custom logo designed.
These mainly pertain to informational websites.  Depending on your business, we'd also recommend:
Ability to pay invoices online
Ability to sell online
Ability to make appointments online
---
BOTTOM LINE: There are of course many other things you can add to your small business website. These are just the must-have pages and elements we think are crucial, especially when you are just starting out. Of course, you can always contact us and we can go through your individual requirements and make recommendations tailored for your particular business and industry.
---
Update: I am adding a few more items to this post:
High-quality images: Your website should have high-quality images that showcase your products or services. This can help build trust with visitors and make your business look more professional. If you use stock photography, try to use some that haven't been used 1 million times on the web. I always point to the picture of the operator that 10 million people used on their websites!  If possible, use a professional photographer especially when taking pictures of your team. Otherwise today's cell phones can take a wonderful picture. I always just recommend that if you're taking pictures of your team, that you are all standing against the same background, from the same distance, etc.
Clear and concise information: Your website should have clear and concise information about your business, products or services, and contact information. It should be easy for visitors to find the information they need.
Easy navigation: Building on the above point about navigation, your website should have a clear and intuitive navigation menu, so visitors can quickly find the information they need.
In times of trouble like we are currently experiencing with the COVID-19 virus, it is imperative for service companies to step up their support function. The status quo is not good enough, not nearly good enough.
Listen, everyone is going through difficult times right now. Many businesses are suffering and some are in dire straits.
Here are four things you can do to help your clients/customers:
Be Responsive – when someone asks you for help or send you a request, answer them as soon as humanly possible. Since our inception in 1996 we have always practiced this. We always respond the same day. While this seems elementary, you'd be shocked at how many companies in my line of work don't respond for weeks at a time.
Be Flexible – you will inevitably have clients/customers who are having a difficult time paying their invoices. Wherever possible you need to be flexible either give people more time, reduce bills and help them in anyway you can to get through this tragic in our history.
Be Proactive – when you see clients missing out on opportunities, especially those that won't cost them too much money, let them know, provide them with any and all ideas you have that might help them survive, and eventually thrive.
Be Understanding – it's always good to put yourself in other shoes. Perhaps your business is doing OK, but that's not true of everyone and it always helps to try and show understanding. You will have people angry, upset, sad and experiencing every emotion there is. People's frustration level is at an all-time high. So it is our job to try to calm them, help them.
As the expression goes, this too shall pass. Eventually we will have treatments and/or vaccines and we will be able to move on from this difficult time in our history. Until then it is our duty to help others in anyway we can. The least we can do is provide the best support we can. This will ultimately pay off and your clients/customers loyalty towards your company will result in more referrals and longer-term satisfaction. Everyone remembers those who helped them during difficult times.