Of course this silly title is a play on words of the age-old question: If a tree falls in the forest and no one is around to hear it does it make a sound?
It seems pretty elementary, but most people have social media pages and no one seems to know about them.  In many cases, people actually seem to be hiding their social media pages.
Here are five places your social media links absolutely need to be:
Your Social Media Links should be on your business cards
Your Social Media Links should be on your website
Your Social Media Links should be on all print collateral
Your Social Media Links should be listed in your office or store.  A simple tent display, with Find us on facebook, follow us on Twitter, etc….
Your Social Media Links should be in your email signature. And if you do bulk emails, you should absolutely have links to your social media pages there as well.

While these things seem like common sense (they are), I guarantee most people do not have their bases covered. Before you look to increase your social media following, first do these simple 5 things I mentioned. These are the low hanging fruit, and so easy to implement. And as my readers know, I don't give any advice that I don't try out myself first. As you can see from the back of my business cards (at the bottom of this page), I have all my links there.
Once you have these done, contact us to discuss our website management services and how we can help you grow your following and take advantage of social media.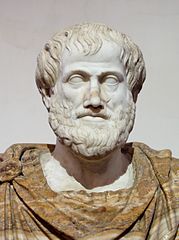 Strange title eh? I agree. Typically we don't look to philosophers who died in 322 BC for advice. But I happened upon an article in the Harvard Business Review talking about the 3 elements of great communication. The elements Aristotle identified are ethos, pathos, and logos.
We will examine all 3 elements and how they relate to website development.
Ethos :: Ethos is your credibility.  Why should anyone believe what you are saying on your website?  One of the most important things you can get across on your website is to show you are a subject matter expert in your field. So if someone wants to hire you, (or buy from you) they need to feel confident that you are a proven leader in your field with the skills & technical expertise they are looking for. If your credibility is in question, it is pretty clear a visitor to your website will not end up a customer/client. This is also why the "do it yourself websites" don't work.  Can anyone take you seriously when you have an amateurish website?
Pathos :: Pathos is the emotional connection.  This is very important in a website. People that have an emotional bond with your company, typically will be repeat customers.  Now for e-commerce, this may be a love for your brand.  People who like a specific clothing brand typically will buy that brand year after year. But this also goes for service providers. Say you are a plumber who saved a homeowner from a leak on a Sunday night.  That consumer won't forget that plumber. This is where things like testimonials come in handy. When visitors to your website see the love your customers/clients have, they too are likely to hire you.
Logos :: Logos is your way of appealing to people's sense of reason. They mention in the blog I referenced that this is where the term logic comes from. True, this sounds a bit Vulcan, but things needs to make sense to us for us to wrap our mind around something.  This is why websites, or commercials fail when they make crazy claims. Even though we may want to believe a pill will grow our hair back and clear our face of wrinkles, we know in our mind that this can't be true. We all know if something sounds too good to be true, it probably is. So keep that in mind developing your website. A little bragging is fine, as long as you don't promise what can't possibly be delivered.
Planning your website can be a difficult process with a lot of variables. But when you consider Aristotle's 3 elements of communication, you are off to a good start. Feel free to contact us with any questions.
There are painful things in life which we put off until we absolutely have to get them done. For me one task I put off until the last minute is gathering information for the tax time. Although I personally like my accountant and enjoy seeing her, it is the process of going through my expenses, income, receipts, etc that I find boring and painful.  But, as I know the 2 things you can't avoid are death & taxes, I deal with my procrastination head on.   I make an appointment with my accountant which gives me a hard date by which I need to gather my information. As April 15th is a hard date, I can't push my meeting with my accountant and try to get in to see her by February the latest.
So what the hell does this have to do with websites and social media you ask?
Good question.
For me the answer to my procrastination is simple, I make an appointment that I can't get out of.  The result is that I get accomplished what I need to. So, my advice for you is to schedule time to work on your website and social media properties. If your goal is to blog once a week, set up a recurring meeting to get this done. Treat it like a meeting though, don't schedule anything else in that time period. The same goes for social media. Set aside time to work on your social media posts.  You will get into a groove and the winner will be you and your company. Although some people find working on their websites, tedious (wait, I do this for a living, thank you!) it is necessary to keep your content up to date to succeed. As you have heard me preach, in this business, stale=fail.
Here is a schedule I recommend for clients:
Blogs – Once a week is great, more is better, 2 a month is a good bare minimum.
Social Media – Set up a review every 60 days and plan a schedule for posting. For some companies a daily post is great, others a few times a week, and some once a week is enough. In your review, review your strategy and what works for your business.
Website – Do a thorough review each quarter.  You should be looking at your website every day, and make changes and additions as necessary, but do a thorough review and planning session each quarter.
Remember you aren't alone in this. Hopefully you have a good web management company to help you, so you can just send them your content and social media updates that they can implement for you. If not, contact us, we are glad to help you.
The first time I heard the expression "SME" was about 13 years ago. I was working on a project at Fidelity Investments in Boston. I was the technical lead on a web development project and a project manager approached me after a kickoff meeting and asked me if I would be the SME for the technical team. I answered forcefully, yes of course I will be. (Of course then I had to actually find out what a SME was). SME is short for subject matter expert. This means you have the knowledge to represent your team and answer all questions related to your field. LinkedIn Uses the term "thought leader". But both actually mean the same thing, an expert in your field.
People tend to ask me, what is the best thing I can do as far as writing content or social media? My first response is anything that portrays you as a subject matter expert, is a good thing and you can never hurt you. Whether you are writing a blog post or sending a tweet, if the information you you are posting shows that you have a distinct knowledge in your field, It will help you. It will drive people to your business.
Everyone is seeking experts who are leaders in their field. Whether you're hiring a lawyer, an accountant, a plumber or a web developer, you want to make sure they know their stuff. So if you learn something you didn't know, reading their blog post or tweet, perhaps saw a tip or an idea you hadn't thought of, it influences your opinion. Most of all it makes a positive impression that people will remember.
Perfect example of what I am referring to occurred in my BNI Networking Group last week. The CPA in our group, Bob Champagne of Champagne & Bibeault, LLC, told us about a credit available to Senior Citizens called the Senior Circuit Breaker Credit. It is worth a thousand dollars and they can go back 3 years to get refunds from prior years. Now, in a room full of Attorneys, Financial Planners, Business Owners and Professionals in many fields, no one knew of the refund Bob referred to. Instantly Bob's credibility increased. What a perfect blog post, facebook posting or tweet this would have been! There are a lot of CPAs to choose from, but little things like this differentiate Bob from the others who may do your taxes yet miss out on things that result in savings, and in this case money in their pocket.
So the question you are probably asking is how can you write content that portrays you as a SME? The first thing is to try and take sales out of the equation. Too much sales talk drives people away and should make up not more more than 20% of your postings. Write about what you know, give tips, ideas, and things that will benefit your readers. They will appreciate it, and hopefully this will lead them to contact you and eventually lead to business.
Often people come to me and ask the question, Do I need a new website or should I just work on the current site?
Depending on how old your website is, and your goals the answer may differ.
If your site is 10 years old or more, you definitely need a new site. Web technology has come so far and the code we were writing in 2003 just doesn't compare with what we are writing today.
If your site is 3-5 years old the answer isn't so cut and dry.  If you are happy with the look and feel, then stick with it, add new features and freshen it up a bit. Consider adding a blog if you don't have one, and review your search engine goals and how you are meeting those goals.
If your site is 1-3 years old, chances are you don't need a new site. But if you absolutely hate your site and cringe when you look at it, consider a new site. Also, if your marketing and/or branding has changed, then your website should be re-done to match.  As with the 3-5 year old site, review how you are meeting your search engine goals.  Typically after a few years you need to tweak your content a bit to be consistently found on the web.
No matter how old your website is, there are a few other things to consider:
Are you taking advantage of social media. Social media drives an additional 20% traffic to most of my clients and you need to have a social media strategy as well as a nice website.
Is mobile important to your company?  The last couple of years we are moving towards responsive designed websites. The sites adjust by the size of your screen so they look good on your mobile phone, your iPad and any screen you might have. The website you are on is an example of a responsive website.
Content: Is your content stale? Do you have the same exact content you had if someone viewed your site a year ago? If so, go through and freshen up your content. Search engines want fresh content and sites that are consistently adding new content tend to do better than stale sites.
Although I tried to answer the question, there are exceptions to every rule. If you would like us to review your site, contact us and we are happy to help.
Happy New Year!