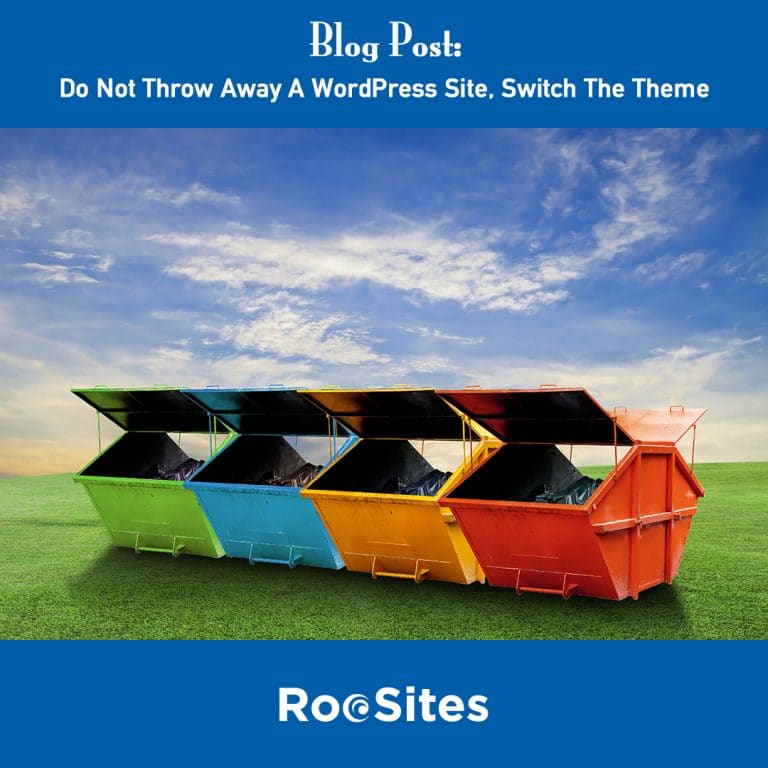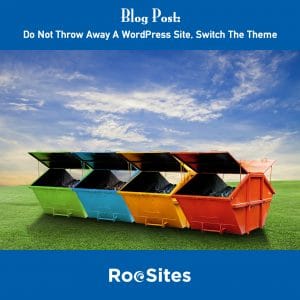 The beauty of using a content management system like WordPress is that you don't have to throw away the site when you want a new design or if you have an issue. We ran into this recently with a client of several years. We had built them a WordPress site and one of the main reasons was so that we could be nimble and update the site easily. So, in case they wanted to change the interface look or had any issues or new requirements which the old theme couldn't handle, we'd be ready.
Fast-forward a few years, the author of their theme discontinued updating it, and the site would break with the advent of PHP 7.2.  So, they were forced to update the theme.
The unexpected benefit is that the site now looks modern and fabulous. Their site had started to look a bit dated, as most do after for four or five years.  I typically try to use themes from quality authors who keep them up to date. In this case the theme we used was brand-new, and was by a highly rated author. Sadly they dumped all their buyers and just created a new theme to try to force people to buy the new one. I wrote about this in my last blog post, Beware of WordPress Theme Authors Who Abandon Their Work.
But back to the point. The beauty of WordPress is you can switch themes and update your site's look and feel fairly easily and keep your content. That's right, keep your content if it is still working for you, and performing well with search engines. I typically like to stick with a theme that uses the same page builder if at all possible. In this case we were using a theme that used the WPBakery page builder.  What this did is save the client a lot of time and money as a lot of the shortcodes still worked.  The nice part about a lot of the modern premium themes is that you can switch your look and feel within those themes (without switching) as they have several design options and drag-and-drop functionality. So in essence you can build so many different kinds of sites that don't look cookie-cutter.
Bottom Line: In this day and age, small business needs to run efficiently and not waste money. So you can't afford to completely throw away a website every few years. But, you always want to be up to date in terms of your website's display, security as well as functionality. In the case I mentioned PHP 7.2 was a big improvement within the programming language. The sites are far more secure and the performance is much better. So, as we said in the title do not throw away that WordPress site, update the theme. And as always, if you need help, contact RooSites, we are happy to assist.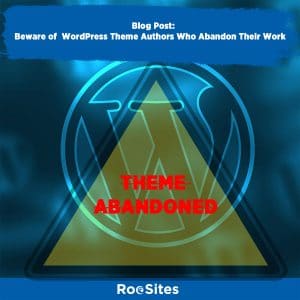 One of my pet peeves is a theme author who abandons their work. A couple years ago I built an e-commerce site for a client and emailed the theme vendor a couple questions about one of their themes. The author told me that that theme was going to be discontinued and we should use their newest theme that they promised to support.
Fast forward a couple years and I went to upgrade my server to PHP 7.2. I did this first in my staging environment and the website broke. The theme could not handle the new version of PHP, which is much faster and more secure.
I went to the Themeforest website and told the author that the theme breaks with PHP 7.2. I didn't hear back and a few days later noticed they took the theme down. I emailed them and they said it was too expensive to keep the theme up.
So I am writing this post to warn you to be careful of theme authors that don't support their theme and abandon projects.
Here are some of the warning signs:
Theme hasn't been updated for several months, even years. When looking at a theme make sure that it has been updated recently. If not, go elsewhere. Good theme authors keep themes up to date with each new version of WordPress, WooCommerce, etc.
Bad Reviews: Check out reviews of the company creating your theme, as all theme authors are NOT equal.
Theme doesn't work with latest version of WordPress, PHP and if it's a shopping cart, WooCommerce or whichever cart you use. ALWAYS Check that the theme works with latest versions.
Sometimes in an effort to be original, we try new themes. The problem is unless it's a good company; the theme may come and go very quickly. So I tend to like themes that are popular, but have tons of configuration settings. Most of the new page builders allow you a lot of latitude in what you want to do, so there's no reason your site has to look like a duplicate of someone else's using the same theme.
Suggestion for Theme Sellers: Minimum standards are needed. When a theme author takes down a theme they should be required to announce a theme is being discontinued and they should have to support the theme for a minimum amount of time. I would say 3-6 months.
Bottom Line: Do your research; check out the theme you will use carefully as well as the theme author. A few minutes of research up front will save you agony down the road when a theme is abandoned.