Today concludes the most contentious election in the history of the Republic. Safe to say most people have an opinion, whether it's left-leaning or right. That is certainly fine in your private life, but in terms of your business pages, here is some sage advice: stay away from sharing those views! Especially today when many people will have anger at the results.
The reason is simple, in business you cannot afford to turn away business from anyone, no matter what their political views are. Your business social media pages and website should be politics neutral. You should be posting things that build you up as a subject matter expert. The problem is that in today's election, people's views are so strong and there's so much hatred for the opposite side that people sometimes feel the need to weigh in on everything and unfortunately everywhere.
If you truly can't live without commenting on the elections, then do it on your personal social media accounts. I would recommend where possible to only have your account visible to your friends. Otherwise, there is some crossover between our business and personal lives. I have several clients that I am friends with on social media as well as having them like and follow my pages. I am very mindful of this when I post even to my personal accounts. I take a long view and realize that potential clients could be turned off by my views, as neutral as I try to be, I take great care not to jump into the fray.
Exceptions: There are certainly exceptions to every single rule. Of course, if you are a political strategist, then by all means let your opinions fly. Chances are one side or the other hires you, so this blog post really doesn't apply to you. However, I do advise to try to keep it as civil as possible, as the one thing to remember is that people can't see your tone in your writing. Sometimes you maybe mean something as a joke or as a cute little barb. But somebody reads it differently and loses respect for your position, even if you are on their side. When you're standing in front of someone, they can tell by your tone that you mean it mainly as a joke, not necessarily as a plank in a campaign.
Bottom line: You're in business to make money, take care of your family and employees. To do so, you must maximize the amount of new clients you have to work with. So stay out of politics, and focus your energy on showing the value proposition you and your company adds. In the long run you'll be far more successful then the guy with the crazy opinions leaning to one side or the other.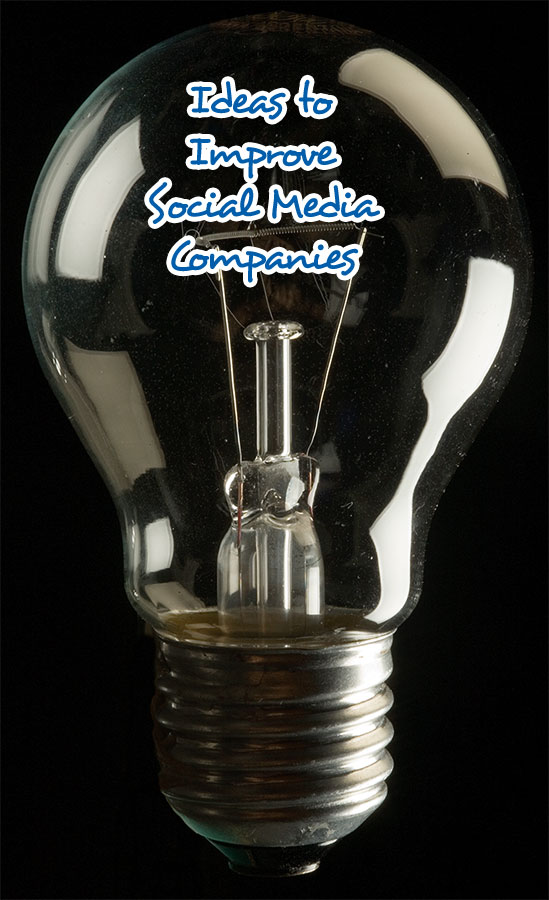 For those of us who are on social media everyday, we all have our pet peeves. Here is a list of things I want done to social media sites I use on a regular basis:
Twitter – Please add the ability to edit posts.  At very least I want to be able to make changes within a few minutes of posting.
Facebook – I love that I can edit my posts as I want to on Twitter.  But please allow me to add photos to posts when I edit.
Instagram – Let me add links!! Intagram to me is an enigma, the kids love it, but there isn't much you can do with it from a business standpoint.  I also wouldn't mind a web interface.
Pinterest – Let me organize my pins, just as I can re-arrange boards
YouTube – Need to be able to have custom url, from day one of establishing channel.  Hard to publicize channel with ridiculous string URL.
HootSuite – Absolutely needs to add the ability to upload photos with their bulk upload tool. What is the point of bulk uploads without images? We are all told that images help posts, but then you can't include with bulk upload.
Google+ – No matter how hard I try I can't get much traction.  I think Google should see if they can get this channel going in 2015 or finally give it up.
LinkedIn – Company pages need updating, they are lackluster and numbers are weak.  Should be a major part of a business social media site, not an afterthought.
Bottom Line:  I think social media companies have to continuously adapt in order to stay relevant.  I am sure you have a bunch of ideas to improve your favorite sites. Please add your comment below, I would love to hear your thoughts.