If you have a website, you are receiving what I call SEO Spam each and every day.  They promise free audit reports and tell you they can make you number one for any and all keywords under the sun.
Fact: they cannot
First off, they never even ask you what you want to be found for, just a blanket promise that they can make you number one. OK, what if I want to be found for Apple computers? See how ridiculous their promises are?
The sheer volume of these emails has gotten out of hand. While I am sure that there are some legitimate companies out there, they wouldn't resort to sending spam.
Here is one day, over a 10-minute period, 7 SEO Spam Emails!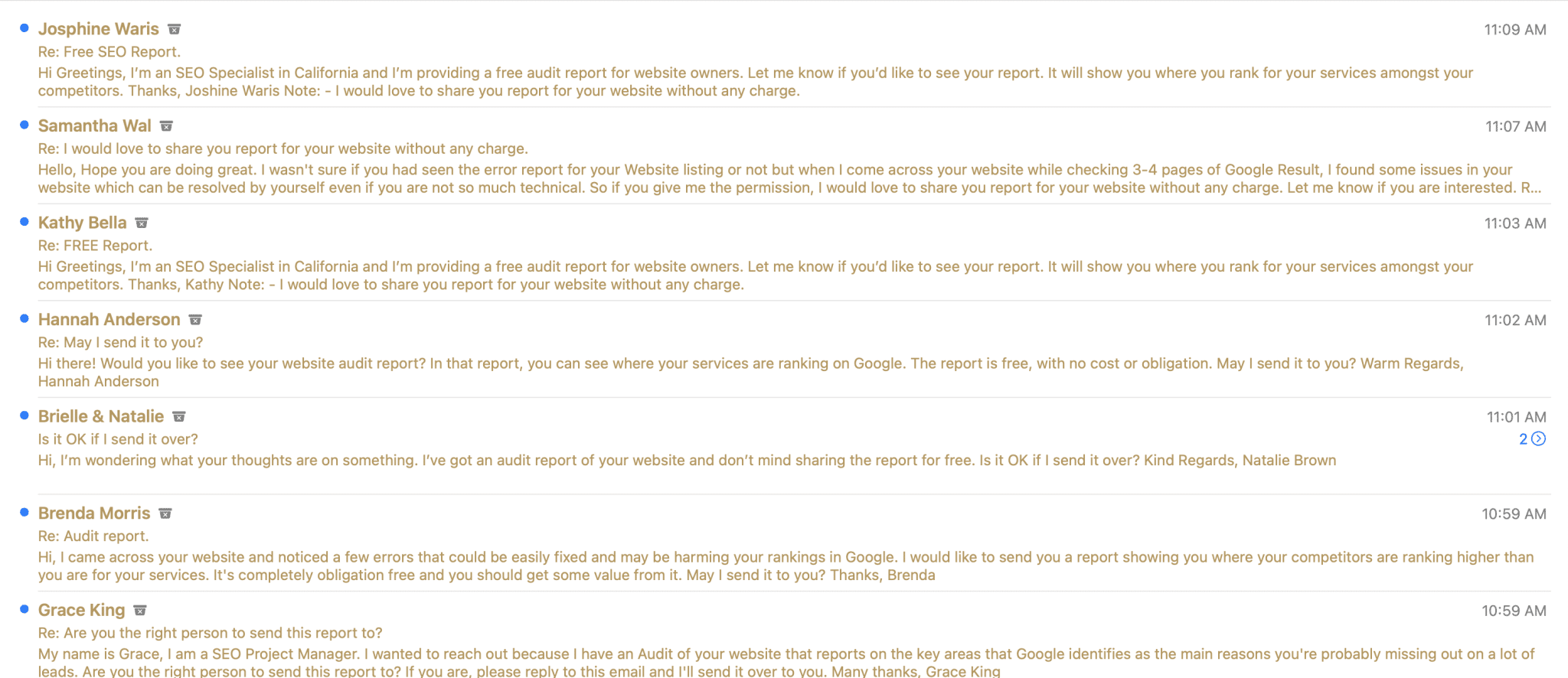 So what should you do?
When you respond to spammers, your email address is flagged as live.  Spammers have no shame, they sell these list to others.  So I never respond. Even their unsubscribe links are fake and used to determine what email addresses are live. The best thing you can do is mark them spam and delete. If you are receiving multiple emails with the same language, set up rules to discard their garbage.
So, what separates RooSites from the SEO spammers?
Simple, search engine optimization (SEO) is included with all our service plans. BUT, we never make false promises. And we NEVER send spam or unwanted emails of any kind. We will work with our clients to devise a plan to improve their search engine rankings. Depending on what they want to be found for, many times we do reach that vaunted number one spot in Google.  This, of course, is dependent on what they want to be found for. In my joke above, obviously I won't get somebody to be number one for Apple computers. But I might be able to get them a number for something reasonable. What we can promise is that if they follow the plan we set up for them, they will improve.  Improving your search rankings is work, and if you're willing to put in the time and effort, you can improve.
If it was as easy as the SEO spammers say, then ask yourself: Why aren't they number one for SEO? If you check out most of the companies that are sending you Spam, they aren't even on the first page for SEO or Search Engine Optimization! In fact, most aren't in the top hundred listings!
Will this get better in the future?
I doubt it, although Spam detection has gotten much better we still find our inboxes and spam filters full of garbage each and every day.  Some email providers are much better than others, which is why I always recommend a third-party email service rather than hosting your own website email on your server.
If you like Microsoft Products then go with Office 365
If you prefer Google products and Gmail, then G-Suite is the way to go.
Bottom line:
You have to always be on guard against spammers and scammers. Always assume any email coming in or pop-ups are from malicious sources looking to hack and or install Trojan processes on your computer.   But as I said, in terms of the SEO Spam,  mark as spam, delete and set up rules.
With billions of web pages out there, how do you show the world that you are a legitimate business? Since anyone can build a website, or create a social media account, you need to do something to legitimize your business and add credibility.
There are several ways to do this, and this post will show you a few ways: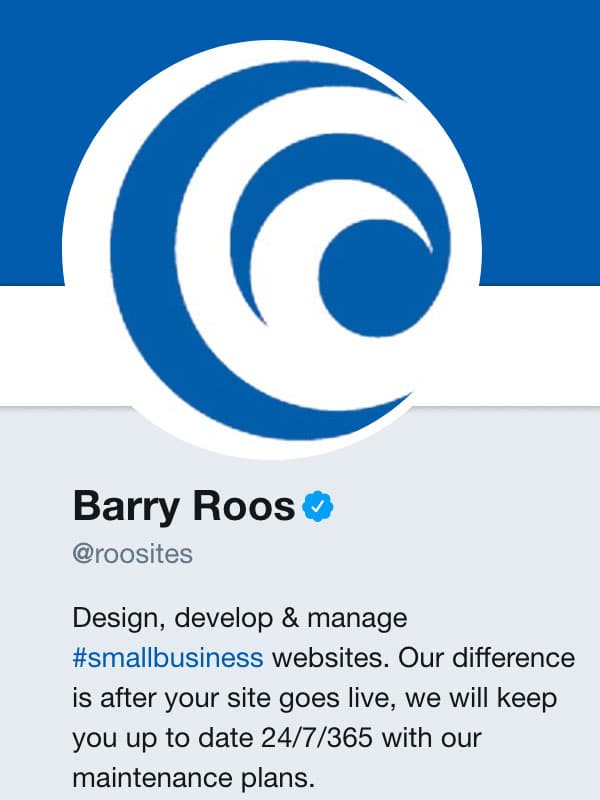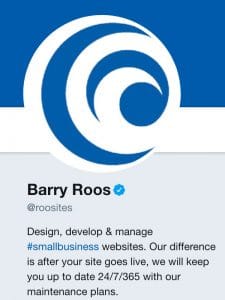 Number one: Verification
Proving to the world that you are who you say you are, is a big deal in a time in history where you receive fake emails, people create fake webpages and more.
Quit simply, verification proves you are who you say you are. As an example, on some Twitter accounts you will see the verification mark. Twitter verifies many celebrities, and other public figures so people aren't confused by fake accounts. You see this for actors, politicians and more. But, they also will verify other accounts. As an example, Twitter verified my account @roosites (see image). Facebook also verified us as well. So if nothing else when people come to my pages, they know I am who I say I am.
Number two: Testimonials
Testimonials are great way to show people that your company is a legitimate entity and also allow you to brag without having it come directly from you. But, here are some important things to know about testimonials. Testimonials which are vague or don't show a person's whole name or their company our next to useless.
"They are a great company"

~Bill

(This may not be fake, but it sure looks fake!)
What I do is I recommend to my clients that when they show testimonials, only if the person allows them to show their full name, their company as well as their title. As you can see below, this is a real person from a real company having a real review testimonial. Nothing legitimizes a company like great testimonials from real people. See below, here is an example from my testimonials page.

Number three: Local Search
Most people search for things by location. So if you are looking for a plumber, you don't typically just type in "plumber". You typically will type: My Town + Plumber as an example.
By having your company listed in local directories, This will further legitimize your company. In the old days people would just pick up there yellow pages and that's how they found you. But as we know, those days are gone. However there are still local directories, Google My Business, YP.com (The old Yellow Pages ), as well as a bunch of other local directories. Start with Google My Business, this will give you a listing that appears right when people are searching for your business or similar businesses like yours on Google Search and Maps. See my Boston listing below as an example. We can recommend several ways to gain local business citations. Contact us for assistance.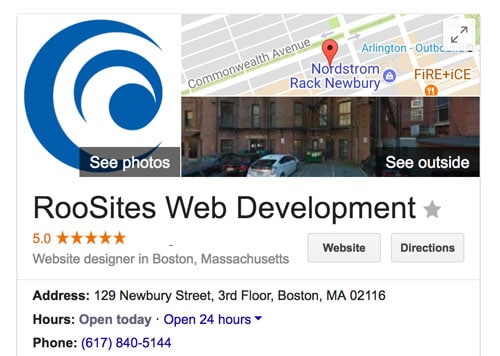 Bottom Line
These are just a few simple ways to add legitimacy to your small business. There are of course many different ways to do this, and we would be glad to help you. All of our support plans include time each month for working on your company's credibility through time-tested methods.
---
Update 7/14/23: Twitter has now gone to a pay for play model, where you need to pay to have your blue check. Although this is not as impressive as the previous methodology, it is still a way for people to see that you have been verified and legitimize your business, so what you need to do his way the cost of getting the blue Check you used to get for free.
---