Watching the Florida Gulf Coast University basketball team in the NCAA tournament you have to be impressed with their poise. The first 15 seed ever to make it to the Sweet 16, they have amazed the sports world.
If you had never watched a college basketball game in your life you would've thought that they were one of the premier programs in the country, equal in every way to Kentucky, North Carolina and other powerhouses. You would never guess that they were only in their second year in division one, and have only been around since the 90s. Why? Because they present themselves as a top notch, well coached program. They present a professional appearance, confident and strong. And of course they are talented, though larger schools passed on their players.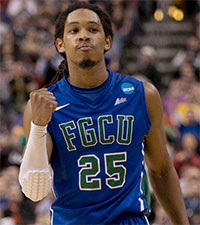 So what does that have to do with building a website you ask? Good question. One thing I always tell people is that if your website is built correctly nobody can tell that you're a small company or even a one person business. It is the great equalizer of our time. Present a professional appearance, spout your virtues, and the sky is the limit. Of course being talented in your field is a must as well.
When you look at some large companies, some do have nice websites. But many are remarkably ordinary. I can point to several websites that the small company actually has a better site than the bigger competitor.
The funny thing is that you don't have to spend an arm and a leg to get a good web presence. I repeat, you do not need to spend an arm and a leg. There are several ways to approach building websites. Of course there are many companies in our business that ask you what your budget is the moment they meet you. And if you say $10,000, they magically have a $10,000 website package for you.(which would have been the same site they would have built had you said $5,000) I don't take that approach. I typically find different alternatives for clients at various price points. The client is then free to choose which alternative works for their budget.
As Florida Gulf Coast University enters the Sweet 16, remember, your small business can play with the big boys as well. If you have the qualifications, we can build you a site that will even the playing field. And who knows, you may even make it to the Final 4…..