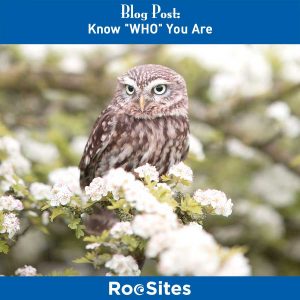 When building a website one of the most important things is knowing "who" you are. Ok, not a great joke with the owl,  but I think it's a very important topic that people don't spend enough time thinking about when planning a site.
A lot of times when people come to me to build a website, I find they are spending too much time looking at competitors. Now, doing your competitive analysis is important and it is crucial that you find a look and feel that reflects you're brand and sensibilities. But, you need to know who you are, and what your company offers in terms of your value proposition.
This is one of the most important things your website needs to convey to potential customers/clients. There are things we all do very well. We may offer many services but we have one particular skill or a few that are our specialties and we need to make sure this is readily seen on our websites.
Using myself as an example, I design develop and manage websites and have so for over 20 years. But the thing that separates me from my competitors is my website management services which are second to none. So, I make sure that everything I put out on my website or social media also mentions that particular part of my business. I need people to know who I am and what I do, so they can know I can help them and their businesses. I realize that's a mouthful, but I feel passionately that this is one of the most important aspects to anyone's website.
People don't have a great deal of time to find what they are looking for on your site. So you need to make sure they can find your value proposition within milliseconds of hitting your homepage. If you are using an image slider, one of the first slides should show your top service. Using myself as an example, my first slide is the about slide which sums up what I do, followed by my website management slide. Then as you scan the page you see my headline, Design, Develop and manage world class small business website. That is us in a nutshell, people know exactly "who" I am.
As they read on they encounter this line:
Our philosophy is much different from that of most firms. We have always felt that the management of your website is every bit as important as the design and development phases. As such we have industry best support plans which our clients utilize to add content, work on their social media, SEO, email marketing, pay per click advertising, and more!!
So as this key line shows, website management is a priority, rather than an afterthought. (which is how most firms view support)
Bottom Line:  Anyone who views my homepage knows exactly "who" I am and what my company offers. This is something we work on with every client insuring that their value proposition is front and center.
Save
Save
Save
Save
Save
Save
Save
Save
Save
Save
Save
Save
Save
Save
Save
Save
Being a webmaster or site manager, you get used to working nights, weekends and yes holidays like the 4th of July.  (If you want to do right by your clients, that is)
Take yesterday for instance. Most people were off for Independence Day. We on the other hand were working and doing an install for a client. As we didn't want the client to be down at any point during normal business hours, the 4th of July is a perfect day to do an install. Now although we started just after midnight on Sunday, we didn't get done until about 9:30 AM with all our install, and testing was completed by mid afternoon.
Now don't take this the wrong way, I am not complaining. That is the job in a nutshell. When you manage people's websites, you need to do what's best by them. This means as little downtime as is humanly possible. Of course there are times when servers go down or horrible things can happen like hackers. These are things are beyond our control though we take every safeguard and measure we can to keep our clients safe. No, I am talking about normal best practices. Do not be down during business hours. End of conversation.
I like to talk say there are things that differentiate companies in a crowded market. The willingness to work around your client's schedule, and do things at times which are not convenient to you, this is an example of what I called differentiators (if that's a word).
Unfortunately, most web companies are really only interested in the "sexy" things in my business. They love doing mockups and showing clients pretty images. But in terms of actually managing your site after the launch, very few companies in the world specialize in this aspect of the business today. Why? The answer is simple, this type of work is not as fun as painting pretty images for clients. This is down and dirty, nuts and bolts work.  But this is what make websites run. This is what keeps websites always improving and not out of service during peak business times.
So, our holiday may have been delayed as we worked most of the day. By the time we stopped and took a break for some barbecue and to enjoy the family time, the day was mainly gone. But at the end of the day, like most days, we know we did the right thing by our client. We will continue this policy, as that is what drives us and has made us the top website management company in the world. Now I know that comes off as boasting, but we stand behind our boasts with action. If you are not happy with your website management company, contact us today, we can help.