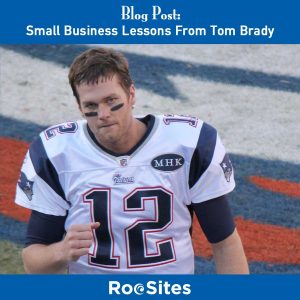 I have been thinking a lot about Tom Brady leading the Patriots to victory in Superbowl LI a month ago.
Brady's performance in the fourth quarter of the Super Bowl was nothing short of remarkable. You have to be in awe of a nearly 40-year-old bringing his team back from a record deficit to win his fifth Super Bowl and MVP.
Now when you think of Tom Brady, you think of a guy who has it all. You think of Hall of Fame quarterback with a supermodel wife, everything someone could want. But if that's all you know, you missed out on the truly miraculous part of this story. In Middle school, Tom Brady didn't start until the starter got hurt. (and they were 0-8 at the time).  In his senior year Brady had to create a highlight tape just to get the attention of colleges.
Tom Brady went to Michigan as a backup quarterback, patiently waiting his turn to start. In fact at one point Brady was 7th on the depth chart. Finally getting his chance as a junior,  Brady had an excellent college career. However he was not highly thought of coming out of college.
Here are the notes concerning Brady at the combine:
Poor build, Skinny, Lacks great physical stature and strength, Lacks mobility and ability to avoid the rush, Lacks a really strong arm, Can't drive the ball downfield, Does not throw a really tight spiral, System-type player who can get exposed if forced to ad lib, Gets knocked down easily
He ended up get drafted by the Patriots in the 6th round, the 199th pick. Check this list below, most of the quarterbacks you have never heard of, and the ones you know were marginal at best.
This is the lesson small businesses can learn from Brady. No, you may not have the looks and other tools that he has physically. But any one, especially small businesses can have the same drive and put it in the same effort in order to succeed. You can outwork your competition even if they are bigger and perhaps more talented.
I remember hearing about Brady as a rookie, not a cinch to make the team. They give a parking spot to the guy who spends the most time in the weight room. Brady reportedly got this space week after week as nobody worked harder. He badgered Coach Belichick asking for more reps, always asking what are you could do to improve.
But still it looked like he be relegated to a career as a backup.
Then one fateful day Drew Bledsoe the starting quarterback for the new and the patriots got drilled by Mo Lewis of the Jets. He sustained an injury that almost killed him. Brady came in the game and patriots fans groaned that the season was over. In the beginning, the coaches had a very conservative plan with Tom Brady, and they ultimately won the Super Bowl. Still people weren't hundred percent convinced that Brady was anything more than a product of a great system that the patriots had implemented. As time gone on he got to throw the ball more, and show all the skills we now know and have come to expect from number 12.
To me, as somebody who works for small businesses, I see the same drive to succeed in my customers. No, we won't all be as famous as Tom Brady, but if we work hard, we can make it to the top of our profession. We can be the best attorney, builder, service company or eCommerce company we can be. No matter what your profession is, it is about putting in the effort, and like the Patriots putting a good team together.
And this is what I strive to do, be a part of those teams that help my clients to succeed. We may not be hoisting Super Bowl trophies, or MVP awards, but I feel pretty sure we can present a professional interface which attracts and keeps business coming our client's way.
Bottom line: Learn a lesson from Tom Brady: Work as hard as you can, never give up or let anyone tell you that you can't do something. As Julian Edelman always reminds Brady … "You can prove em right or you can prove em wrong!"
Save
Save
Today concludes the most contentious election in the history of the Republic. Safe to say most people have an opinion, whether it's left-leaning or right. That is certainly fine in your private life, but in terms of your business pages, here is some sage advice: stay away from sharing those views! Especially today when many people will have anger at the results.
The reason is simple, in business you cannot afford to turn away business from anyone, no matter what their political views are. Your business social media pages and website should be politics neutral. You should be posting things that build you up as a subject matter expert. The problem is that in today's election, people's views are so strong and there's so much hatred for the opposite side that people sometimes feel the need to weigh in on everything and unfortunately everywhere.
If you truly can't live without commenting on the elections, then do it on your personal social media accounts. I would recommend where possible to only have your account visible to your friends. Otherwise, there is some crossover between our business and personal lives. I have several clients that I am friends with on social media as well as having them like and follow my pages. I am very mindful of this when I post even to my personal accounts. I take a long view and realize that potential clients could be turned off by my views, as neutral as I try to be, I take great care not to jump into the fray.
Exceptions: There are certainly exceptions to every single rule. Of course, if you are a political strategist, then by all means let your opinions fly. Chances are one side or the other hires you, so this blog post really doesn't apply to you. However, I do advise to try to keep it as civil as possible, as the one thing to remember is that people can't see your tone in your writing. Sometimes you maybe mean something as a joke or as a cute little barb. But somebody reads it differently and loses respect for your position, even if you are on their side. When you're standing in front of someone, they can tell by your tone that you mean it mainly as a joke, not necessarily as a plank in a campaign.
Bottom line: You're in business to make money, take care of your family and employees. To do so, you must maximize the amount of new clients you have to work with. So stay out of politics, and focus your energy on showing the value proposition you and your company adds. In the long run you'll be far more successful then the guy with the crazy opinions leaning to one side or the other.